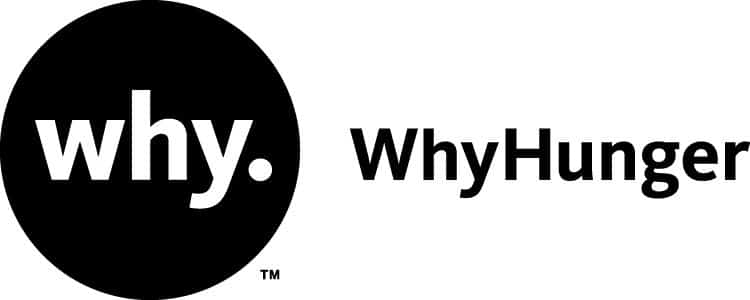 WhyHunger's 35th annual campaign collaborates with celebrity ambassadors and partners to raise awareness and funds to meet growing need
New York (January 6, 2021) —WhyHunger, a leader in the movement to end hunger and advance the human right to nutritious food in the U.S. and around the world, today announced its 35th annual Hungerthon campaign raised over $1.1 million – over half of which were small dollar donations – to strike at the root causes of hunger.
The multifaceted campaign worked with radio partners, celebrity ambassadors and sponsors, engaging the public through radio broadcasts, merchandise and a celebrity-driven auction hosted on Charitybuzz, in efforts to raise awareness and critical funds for community-driven solutions that end hunger and tackle urgent human needs through social, racial and economic justice.
"This year's unprecedented and compounding forces of the COVID-19 pandemic, record unemployment and alarming rates of food insecurity have been devastating for too many Americans. In this pivotal time, it is humbling to see such an outpouring of support during this year's Hungerthon campaign. With thousands of people stepping up to give what they can, despite their own challenges, it is so encouraging to see Americans prioritize the basic human right to nutritious food for all," said Noreen Springstead, executive director at WhyHunger.
Highlights from WhyHunger's multifaceted holiday fundraising and awareness campaign include:
Celebrity support from Yoko Ono Lennon, Billy Joel, Kenny Loggins, Tom Morello, FRZY, Molly Tuttle, Jesse Colin Young, MJ Songstress, Niko Brim, Sean McConnell, JoJo Brim, Mike Taylor and Essie Golden among others.
Radio partners at SiriusXM, nationally, Entercom New York and iHeartMedia New York hosted live broadcasts featuring exclusive interviews on topics such as racial justice and hunger and COVID-19's impact on hunger, while raising funds through auction items, donation drives and Facebook Fundraisers.
A record-breaking Live Hungerthon Day on Entercom New York raised $358,250 on stations including: WFAN 101.9 FM/660 AM (WFAN-FM/AM), WCBS 880 (WCBS-AM), 1010 WINS (WINS-AM), WCBS-FM 101.1 (WCBS-FM), ALT 92.3 (WNYL-FM), NEW 102.7 (WNEW-FM), and New York's Country 94.7 (WNSH-FM).
Support from corporate sponsors vitafusion Gummy Vitamins and their ambassador Tiffany Haddish, ADX Foundation, VME (Virtual Media Entertainment), On The Move, and ShopRite Liquors of Wharton.
The first ever 'Musicians United to End Hunger' virtual concert series where over a dozen artists performed online for their fans to raise funds and awareness. Notable concerts included the Joe D'Urso & Friends' Hungerthon Kickoff Concert, VME Presents Hungerthon: A Benefit Concert to Eradicate Hunger and concerts by Firepit and Hell or High Water.
The first annual Race to Give Thanks on Thanksgiving Day, a nationwide virtual 5.4 mile run (in solidarity with the 54 million Americans who are food insecure) through the app Run for Good, which allowed participants to raise funds to support Hungerthon.
Popular auction items included: Bruce Springsteen Autographed 1952 Fender Reissue Telecaster Guitar, folklore Album Guitar Autographed by Taylor Swift, and a Jon Bon Jovi Autographed Fender Stratocaster among others.
"This year's campaign was so important amidst the rising need across the country, and we are grateful to everyone who came together – our radio partners, celebrity ambassadors, musicians and corporate sponsors. Thank you to our partners and donors for their critical support of WhyHunger and our work to nourish people now and end hunger for good," added Springstead.
Since launching over three decades ago, Hungerthon has raised millions of dollars to advance the human right to nutritious food. In 2020, WhyHunger helped connect over 1 million people in the U.S. to nutritious food.
About WhyHunger
Founded in 1975 by the late Harry Chapin and radio DJ Bill Ayres, WhyHunger believes a world without hunger is possible. We provide critical resources to support grassroots movements and fuel community solutions rooted in social, environmental, racial and economic justice. A four-star rated charity by Charity Navigator, with highest ratings for excellence in fiscal management accountability and transparency, WhyHunger is working to end hunger and advance the human right to nutritious food in the U.S. and around the world. 86 cents of every dollar raised goes directly to programmatic work. Learn more at whyhunger.org and follow us on Facebook,  Twitter and Instagram.
About SiriusXM
Sirius XM Holdings Inc. (NASDAQ: SIRI) is the leading audio entertainment company in the U.S., and the premier programmer and platform for subscription and digital advertising-supported audio products. Pandora, a subsidiary of SiriusXM, is the largest ad-supported audio entertainment streaming service in the U.S. SiriusXM and Pandora's properties reach more than 150 million listeners, the largest addressable audience in the U.S., across all categories of digital audio – music, sports, talk, and podcasts. SiriusXM's acquisitions of Stitcher and Simplecast, alongside industry-leading ad tech company AdsWizz, make it a leader in podcast hosting, production, distribution, analytics and monetization. SiriusXM, through Sirius XM Canada Holdings, Inc., also offers satellite radio and audio entertainment in Canada. In addition to its audio entertainment businesses, SiriusXM offers connected vehicle services to automakers. For more about SiriusXM, please go to: www.siriusxm.com.
About Entercom Communications Corp.
Entercom Communications Corp. (NYSE: ETM) is the #1 creator of live, original local audio content in the U.S and the unrivaled leader in local radio sports and news. Home to the nation's most influential collection of podcasts, digital and broadcast content, and premium live experiences, Entercom engages over 170 million consumers each month. Available on every device in every major U.S. market, the company delivers the industry's most compelling live and on-demand content and experiences from voices and influencers its communities trust and love. Entercom's robust portfolio of assets and integrated solutions offer advertisers today's most engaged audiences through targeted reach, brand amplification and local activation—all at national scale. Learn more at www.entercom.com, Facebook and Twitter (@Entercom).
About iHeartMedia New York
iHeartMedia New York owns and operates IWHTZ-FM, WKTU-FM, WAXQ-FM, WWPR-FM, WLTW-FM, WOR-AM, WWRL-AM, and is part of iHeartMedia. iHeartMedia (NASDAQ: IHRT) is the number one audio company in the United States, reaching nine out of 10 Americans every month – and with its quarter of a billion monthly listeners, has a greater reach than any other media company in the U.S. The company's leadership position in audio extends across multiple platforms, including more than 850 live broadcast stations in over 160 markets nationwide; through its iHeartRadio digital service available across more than 250 platforms and 2,000 devices; through its influencers; social; branded iconic live music events; other digital products and newsletters; and podcasts as the #1 commercial podcast publisher. iHeartMedia also leads the audio industry in analytics, targeting and attribution for its marketing partners with its SmartAudio product, using data from its massive consumer base. Visit iHeartMedia.com for more company information.
###
Media Contact:
Alex Kofsky
301.775.1851
[email protected]