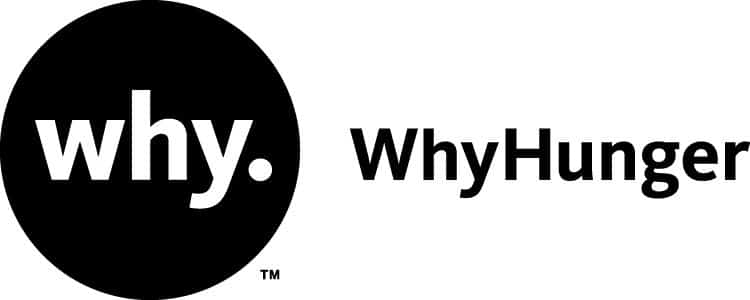 WhyHunger Partners with 10x Management and World's Leading Map Creators to Deliver Real-Time Information about Where to Find Meals
New York (April 22, 2020)  – In response to the growing hunger crisis during the COVID-19 pandemic, WhyHunger—a leader in the movement to end hunger and advance the human right to nutritious food in the U.S. and around the world—has partnered with 10x Management and their mapping gurus and software engineers, Greg Sadetsky and Colin Wren, to create the first-ever comprehensive, crowd sourced and open sourced interactive map of free meal sites in the U.S.
"Food insecurity has become one of the most immediate challenges of the COVID-19 economic fallout. With unprecedented unemployment sweeping the nation, hunger is on the rise and we are heading for a real crisis. Access to healthy and nutritious foods is a basic human right, and one that we need to fight to protect even in the most challenging of times," said Noreen Springstead, executive director, WhyHunger. "Having already built the most comprehensive database of food organizations in the U.S., and to expand upon our recent work with Waze, we were eager to jump in and collaborate on this new critical partnership to help increase access to food within communities, while engaging volunteers nationwide."
With COVID-19 meal sites being added weekly and food pantries pivoting their hours and operations to meet growing needs, the map provides the opportunity for food insecure individuals to more easily and safely access nutritious food and meals in their area. Simultaneously, the map helps connect those who wish to help with volunteer opportunities that can be accomplished while sheltering in place by calling free food sites to verify they are open and able to provide food at this time. Volunteers can elect to be assigned sites in their area, or nationwide.
"COVID-19 is a critical health and hunger crisis. We saw a vital opportunity to use our mapping and software background, to create this resource to help aid individuals in their greatest hours of need. We're proud to partner with WhyHunger to provide real-time information, increase access and combat food insecurity during this pandemic," said Greg Sadetsky, lead developer and recipient of the United States Coast Guard Distinguished Public Service Award for developing custom mapping software to aid Hurricane Harvey rescue efforts as a volunteer.
"The nation is experiencing a fundamental crisis on multiple levels. As we flatten the curve, we must also flatten the need for critical access to nutritious food. Having worked with Greg and admiring the critical mapping service he developed as a volunteer during Hurricane Harvey, we knew that he could quickly and effectively develop a map with a real-world application. In addition, WhyHunger is the best partner around for this kind of initiative. Their grassroots efforts have afforded them a tremendous database of food distribution sites as well as amazing relationships in the food insecurity network. This initiative not only leverages technology to solve a very critical problem, but it enables governments and community volunteers to give back in a safe and crucial way," said Michael Solomon, co-founder of 10x Management and co-creator of the map.
For over two decades, WhyHunger has operated a national hotline and suite of digital tools designed to connect the over 37 million food insecure individuals in the U.S. to free, nutritious food in their communities in times of personal, local and national crisis. Since January, WhyHunger's Hotline and Find Food database experienced a 157% increase from those in need, struggling to feed themselves and their families, unsure of where to turn. This number is anticipated to nearly double throughout the month of April.
To access the map, or to sign up for volunteer opportunities please visit: https://whyhunger.org/findfood.
This new initiative will bolster the integration of real-time data from WhyHunger's map into the Waze app. To view the previous announcement about the WhyHunger Waze partnership which provides a food finder database on its platform, please click here.
To learn more about WhyHunger's work or to donate to the Rapid Response Fund, which will help expand the organization's national Find Food Database, Hotline & Texting service, visit: https://whyhunger.org/rapidresponsedonate/.
About WhyHunger
Founded in 1975 by the late Harry Chapin and radio DJ Bill Ayres, WhyHunger believes a world without hunger is possible. We provide critical resources to support grassroots movements and fuel community solutions rooted in social, environmental, racial and economic justice. A four-star rated charity by Charity Navigator, WhyHunger is working to end hunger and advance the human right to nutritious food in the U.S. and around the world. Learn more at whyhunger.org and follow us on Facebook, Twitter and Instagram.
About Greg Sadetsky
Greg Sadetsky is a renowned developer with a history of using his expertise to benefit the greater good. In 2018, he received the United States Coast Guard Distinguished Public Service Award for developing custom mapping software to aid Hurricane Harvey rescue efforts as a volunteer. He co-founded a web mapping startup that was sold to Apple in 2010 and ultimately became Apple Maps, making him the perfect person to get involved with this project.

About Colin Wren
Colin Wren is an engineer with expertise in a number of coding languages and frontend technologies. With over 8 years of experience building websites and rich web applications, he is a key addition to building this map and the associated crowdsourcing tools.

About 10x Management
10x Management is an agency representing the world's best freelance developers, data scientists, blockchain experts, designers, app specialists & more. Greg Sadetsky and Colin Wren are both 10x clients, which is how they connect to 10x co-founder, Michael Solomon.