Photos and story by Lorrie Clevenger, Capacity Building Coordinator
Community School PS 211 in the Bronx, NYC, is preparing to receive a flock of chickens for its school garden.  Over two days in May, students, teachers, staff, parents and even a few grandparents pitched in to build a chicken coop to house twelve new hens.
Jason Godlewicz, the computer teacher at P.S. 211 and a second year student of Farm School NYC, worked collaboratively with the community to submit an application to Just Food's City Chicken Program.   Each year the program supports the establishment of four new city chicken projects at community and/or school gardens in New York City.  The program provides the tools, building materials and all the technical assistance needed to build a chicken coop and learn how to care for their newest community members.
Follow along for a snapshot of this two-day adventure, then find out how you can get involved!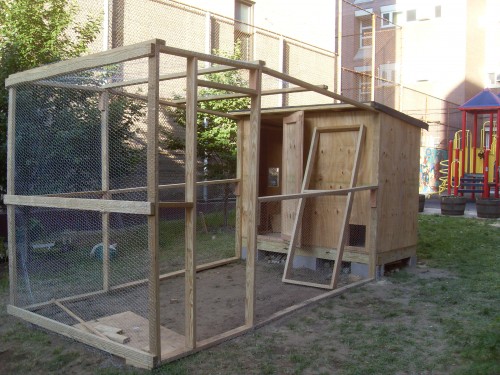 Get Involved!
Join the Conversation:
Name that hen!  Leave a comment to share your name ideas with Community School PS211 teachers and students for their 12 hens.
Chicken laws?  In New York City, we can keep hens but not roosters.  What about where you are?
Do you have chickens?  What advice do you have for Community School PS 211?  Share it in a comment.