When school lets out at Eugene Field Elementary School, the area does not become a ghost town that children run from, like so many schools. The block that houses Eugene Field remains a gathering place in a fringe neighborhood of southwest Tulsa.
The Westside Harvest Market shares a backyard fence with the school. The after-school program kids circle-up on a giant planet-emblazoned carpet. Sixteen students go around the circle, each child sharing his or her Breathe In (good) and Breathe Out (bad) from the day. Their Global Gardens instructor, Princess, thanks them and ensures that all the students are respectfully listening to one another. Soon the students will go outside to tinker in the raised beds and individual student plots of the schoolyard garden.
Meanwhile, next to the after-school room, Marsha Corrie talks to neighborhood residents in heavy winter coats as they check-out with their groceries from the Westside Harvest Market. A family of four – two young boys in heavy, hand-me-down winter coats – carries a bag full of onions, canned corn, barbecue sauce, milk, and pasta. This market is small and has a fresh, artistic feel. Flower murals color the walls. It feels like a high-end boutique market. The kind of place that celebrates food, and charges a lot for it. But the IKEA-esque shelves are full of affordable groceries. Some processed, low-nutritional-high-calorie food – white bread, hotdogs, cheese puffs – but also fresh and frozen fruits and vegetables. The closest market to here is Perry's, a high-end (pricier than Whole Foods) grocer two miles away.
Later, at six o'clock after Marsha closes the store, families will gather for a meal preceded by a demo in healthy, affordable cooking. Tonight, three families arrive. They pay $2 per family. Kids are welcome and everyone is invited to participate in cooking a simple, healthy meal. Tonight is canned chicken enchiladas with cream cheese, salsa, Colby-jack, and fresh chopped pico de gallo. The Junior League has partnered with Global Gardens to manage a three-year project with twice-weekly cooking classes open to the public. Community leaders are beginning to lead the cooking session so they can take over the program after its three-year term.
So from 8am when the students, 99% of whom qualify for the school meal voucher program, eat their breakfast until, on some nights, 8pm when the cooking families have finished their meal, the Eugene Field School and Westside Harvest Market is a gathering place, and meals are the hearth.
The Eugene Field School and its adjoining Westside Harvest Market have learned that few things bring people together in a more warm, welcoming way than food. Convening around a meal comes in many forms at Eugene Field: the monthly community dinners served in the gymnasium and open to all, the bi-weekly cooking demos and meals shared in the adjoining Westside Harvest Market, the presence of the Harvest Market itself, and the gardens behind the school that are tended to by after-school program students and science classes.
Ten years ago, long before the USDA's Community Food Project (CFP), Global Gardens, and First United Methodist Church began working here, no one wanted to gather at Eugene Field. Not even the students. The small brick elementary school had languished as one of the worst schools in Tulsa. It didn't help that the school sat in one of the more transient, low-income neighborhoods in the city. It didn't help that 75% of the student body had incarcerated parents or that 95% of the parents had not graduated from college. It didn't help that there was not a whisper of a PTA.
That was the situation when Cindi Hemm, a white woman from a nice little school in a nice little neighborhood, arrived in 2003. Hemm replaced half the teaching staff, established a year-round schedule, and insisted on uniforms, among other things. She ingratiated the community, increasing from three to thirty local sponsors. Over the years, classroom attendance went from 170 to 430. And she started a monthly dinner free to all children and families of Eugene Field.
Hemm retired last year, but the single block of west Tulsa within a stone's throw of US Highway 75 continues to bring the community together around food and nutrition, in large part due to the growth of Global Gardens programming.
Global Gardens, a Tulsa non-profit that stresses community empowerment through peace and science education, came to Eugene Field in 2005. They asked the school what they wanted and the students said a garden. So they helped the school build a simple garden.
But Hemm and the Global Gardens staff saw a troubling lack of nutrition and diet-related health issues within the community and the school. Breakfast and snacks were honey buns, hamburgers, and PopTarts. Fast food and corner stores provided the most convenient food outside of school. Just having a backyard garden was not enough to change unhealthy habits or increase access to healthy food on an impactful scale.
It's safe to characterize Tulsa as a profoundly religious city where Christian churches have a long reach into many aspects of community life. Hemm herself led with an openly Christian approach to education and child well-being. So when local businessman, Clark Millspaugh, a member of the First United Methodist Church, which had been mentoring Eugene Field students and providing the monthly free dinners in the gym, asked the school and Global Gardens what they needed most, they turned to the community.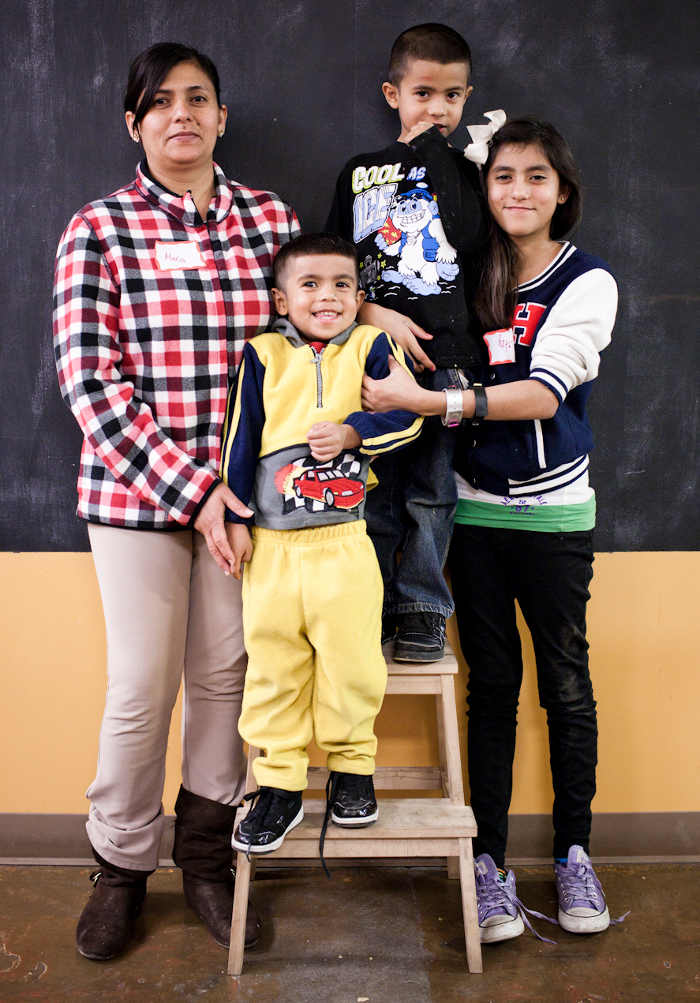 Ayshia Saiymeh works with Global Gardens. In 2007 she began hosting open community meetings to discuss ideas for the space Millspaugh had created next to the school. Marsha Corrie and her husband became regular community participants in those meetings. Marsha heard about Global Gardens and the good work going on at Eugene Field from her granddaughter who was one of the first participants in the school garden and who brought her grandma to the monthly free dinners. Marsha quickly became a vital community leader and liason. The consensus from those planning meetings was that the community needed an accessible, affordable market since many residents did not have reliable transportation to reach the outlying options.
The market opened in April 2008. Marsha helped select appropriate groceries for the shelves and she now works as cashier.
"We tell the people what's healthy," she says, "But there's a breaking point where you have to buy those pastas and hot dogs and bolognas to stretch out the food money and calories for the month."
The cooking classes in the adjoining kitchen were designed to educate the families and children about healthy meal options on a budget. That's why Global Gardens partnered with the Junior League of Tulsa to offer the twice-weekly cooking demos for all community residents, with the intention of transferring responsibility to established community leaders after three years.
The Eugene Field School transformation offers many lessons in community food security. It's by no means perfect, but it shows that open-mindedness cuts both ways. That there can exist a variety of entities capable of working together in a grassroots way. It took a well-developed relationship with an affluent church (First United Methodist), a fearless Principle, an open forum for community involvement, a non-profit (Global Gardens), and even the Junior League to combine forces and bring people together around increased food security in one small corner of Tulsa.
As Marsha closes up, she says she hears it every day. People come in and thank her, at least once a day, for being there. For providing a neighborhood source of affordable food. Of non-fast-food food. "They say, 'If we didn't have this, we wouldn't have nothing," Marsha says. "I tell them, I need it just as much. I live right here, too.'"