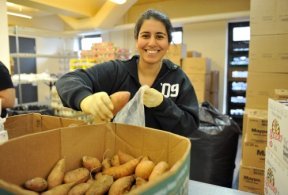 Join WhyHunger's National Hunger Clearinghouse Director Jessica Powers on Wednesday, December 11, 12 – 1PM EST for "Beyond Emergency Food: Thoughts from both sides of the border," a free webinar with our partners at the Community Food Centres Canada. We'll talk about WhyHunger's work to support emergency food providers going beyond charitable food access programs to create initiatives fostering a more inclusive and sustainable food system. The lively discussion will cover key principles underlying this work, drivers for transforming organizations, redefining relationships with funders, inspiring examples of change, useful resources and more.
Community Food Centres Canada provides resources and a proven approach to partner organizations across Canada to create Community Food Centres that bring people together to grow, cook, share, and advocate for good food. CFCC works with the broader food movement to build greater capacity for impact and to empower communities to work toward a healthy and fair food system.
We'd like to cater the webinar to your interests, so please email us questions you'd like us to pose during the webinar and we'll do our best to get to as many as we can.
When: Wednesday December 11, 2013 from 12 to 1 p.m. EST Where: Your computer–register here! – https://cfccanada.webex.com/