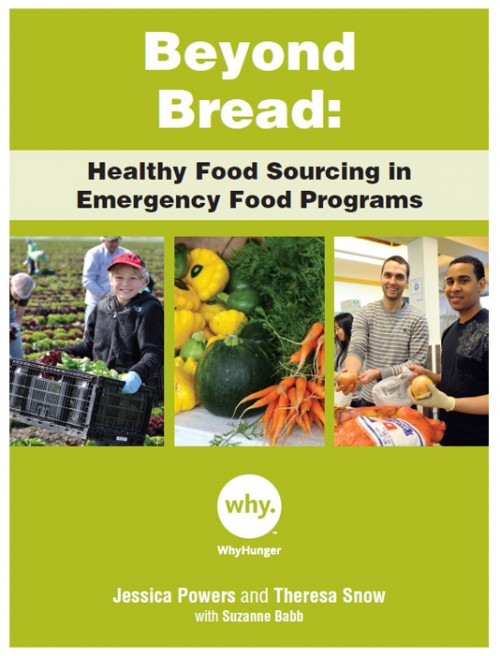 For years, WhyHunger has partnered with emergency food providers working towards healthy food sourcing.  After extensive research, one-on-one interviews and participating in the national conversation on the future of emergency food, we are excited to release Beyond Bread: Healthy Food Sourcing in Emergency Food Programs, a comprehensive new publication that provides examples and inspiration from emergency food providers across the US.  With profiles, resources and examples of successful and creative healthy, fresh food sourcing programs, Beyond Bread is a tool that will help emergency food providers to expand or strengthen their current programming, forge new partnerships and collaborate with others to improve the health and wellbeing of their communities.  Beyond Bread features strategies for building relationships with farmers, creating voucher programs, teaching people how to grow their own food, and supporting an organizational culture that prioritizes nutrition from food banks and agencies across the US.
Together, we can strengthen local and regional food systems and transform the emergency food system into one where fresh, nutritious food is available to all. Beyond Bread is a must read for anyone involved in emergency feeding.  Preview Good Shepherd Food Bank's story below and download the whole guide for free at //bit.ly/beyondbread.
Beyond Bread preview: Good Shepherd Food Bank
At Good Shepherd Food Bank in Maine, limited storage capacity and the need to meet client food preferences inspired a big change in the organization.  In 2010, it made the decision to provide more nutritious food to 600 partner agencies by working with local farmers to purchase crops, a practice that ultimately led to the start of the Mainers Feeding Mainers Program.  Dealing directly with farmers gives agencies access to produce the same day it's distributed to clients, which eliminates the need for storage space.  To address concerns about client food preferences, agencies began handing out tasty, healthy recipes to accompany the produce, which clients embraced.
The Mainers Feeding Mainers program has been mutually beneficial for both the Food Bank and the farmers.  The Food Bank is creating a new, stable market for the farmers, while the farmers are providing nutritious produce to people who really need it.  WhyHunger is excited to feature Good Shepherd Food Bank inBeyond Bread and admires the way it has enhanced the local food movement and community economic development of Maine.